Mortgage Rate Trends
New Jersey mortgage rates are one of the most important variable in the housing's equation when buying in New Jersey. First time home buyers usually overlook the effect of mortgage rates to focus solely on home prices.

The mortgage rate is used to calculate monthly payment. The higher the mortgage rate, the higher the monthly payment. The lower the mortgage rate, the lower the monthly payment.
What it means is that when mortgage rates trend higher, it lessens the buying power of buyers because it increases monthly payments which are used to decide how much money the lender will let the buyer borrow.

The historical graph below tracks the 30 Year Fixed mortgage rates trends since 1971. Historical data is from the Freddie Mac archives. The orange lines represents both "support" and "resistance".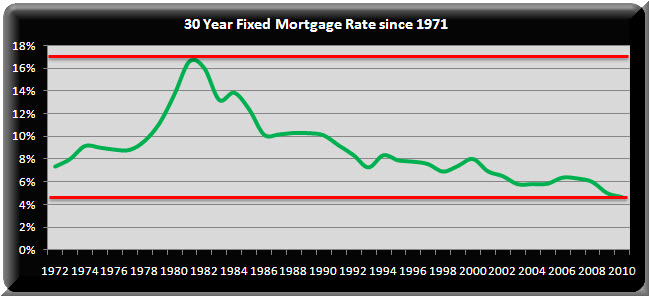 Same 30 Year Fixed rate mortgage trend since 1971 graph but with a "5 year" grouping.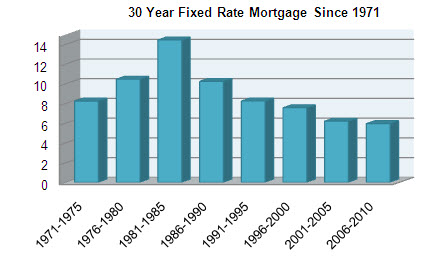 More on Historical Mortgage Rates Trends...
Click on the Historical Mortgage Rates link below. It will open a neat interactive application you can use to dive further into historical trends and effect on monthly payment. You can select your historical time frame and different mortgages terms (30 year fixed, 15...) and clearly visualize cause to effect...